Seattle's My Little Pony Convention
Birth-iversary! Ten Years of Friendship
August 26 - 28, 2022
Hyatt Regency Bellevue
Bellevue, WA
Register Now
News
Light up the floor & turn up the bass! It's not a pony party without some sick tunes and we've brought together some of the best musicians in Equestria to help us celebrate #EFNW2022! Head over to: ponystock and gala to check out our Ponystock & Gala lineups!
More News
Guests of Honor
Andrea Libman
Kelly Sheridan
Jenna Warren
Ana Sani
Peter New
Vincent Tong
Marÿke Hendrikse
Andy Price
Thom Zahler
JustaSuta
Imalou
What is Everfree Northwest?
Everfree Northwest is a 3-day all-ages convention for fans of My Little Pony set in beautiful Seattle, Washington. With a Grand Galloping Gala, musical concert, vendors, 24-hour activity rooms, and over 50 hours of events programming, Everfree Northwest has something for everypony!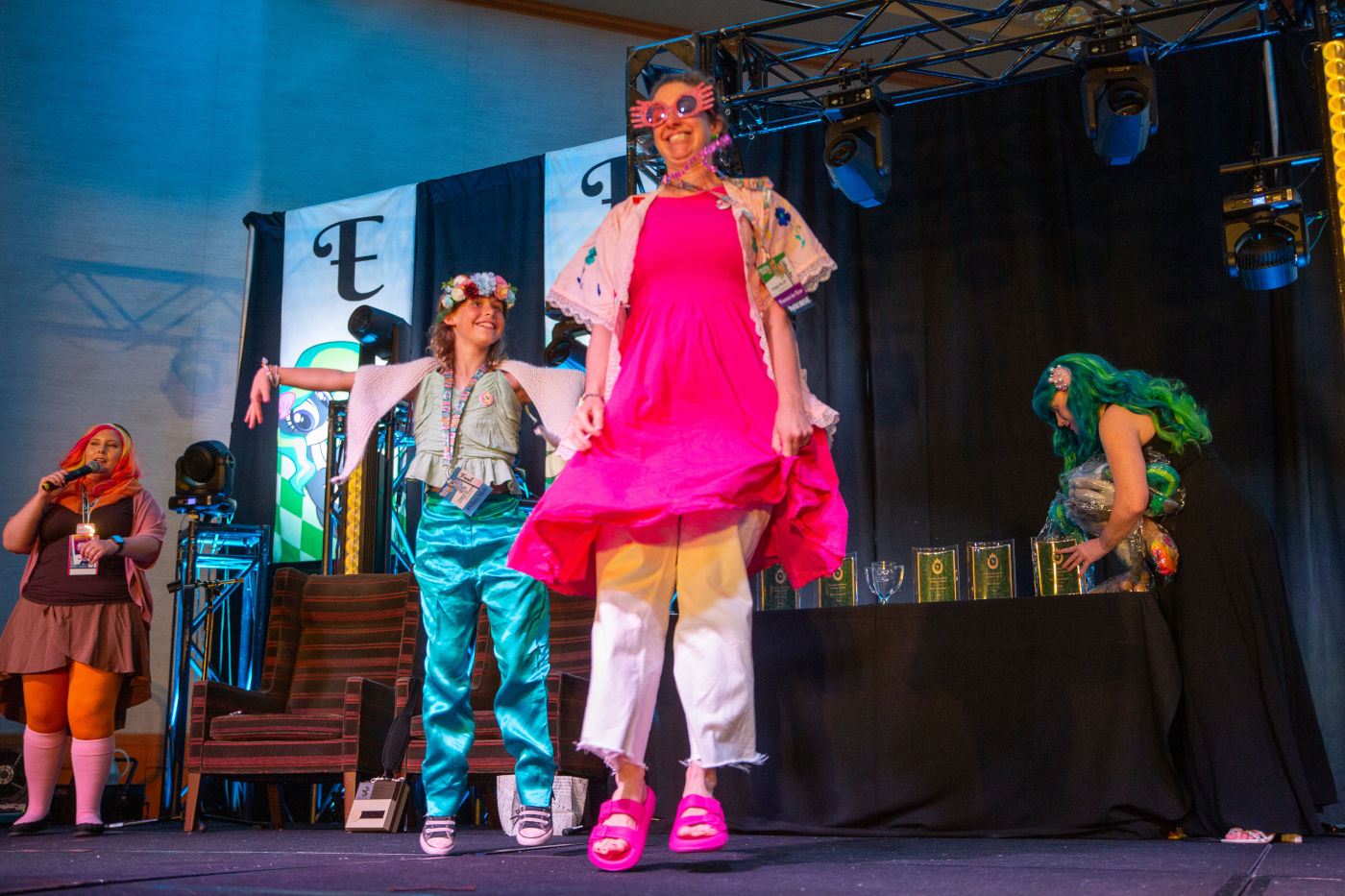 More About EFNW
Meet the Mascots
Hyatt Regency Bellevue
For 2022, Everfree Northwest is going to be located at the Hyatt Regency Bellevue.
Learn More
Special Thanks
A special Thank You to the generous attendees who help make Everfree Northwest possible!
☁Sea Fluff☁ // Zenni Stardust // Zac // Yoshi // Yaop117 // xXGalaxyLaceXx // wubscale // Wolfie Star // Winston // Vocal Rhapsody // Virdia Noire // Velfire // Vayandas // Undómë Tinwë (Melessë Lindenya) // Twisted Shadow // Twilight Sparkle // TuxedoMike // tucker vanvolkenburg // Treetops // TrebleBase // Trail Grazer // Toa Coy // Tiny Equine // Tina // Thornwing // The Reverend // The Ferbguy // Terra Klysh // TaylorBMcardle // TaikoDragon // Swift Crescendo // Sunset Ash // SunSeeker // Sunkissedbeetle // Sunchaser // Stu-art McMoy // Stormy Skies // Stormy Dash // Stinky Butt Dash // Stellarator // StatManDan // Starry Tiger // Star Thistle // StableCoder // SR Foxley // Sparky Showers // SparklingPixie // Som3thing // sokesamurai // Slasher0001 // Skysweep // SkyHighFloof // Skulli // Skrytch // Sirris // Silver Wing // Silver Tail // Shaxbert // Shadow Streak // shado_jaguar // Shaded Star // Scratches // Scott Pahnisch // Satellite Spires // Sappy Song // SamuDash // Sage Tanaka // Rustic Rails // Ruby Reverie // Ruby // Rose Quill // Roscoe // Rockhoppr3 // Robo Bro // Ricky Ray // Reia Hope // Red Card // Rebane - popstonia // Razor Finesse // RainbowDashFan // Rainbow Crash // Rainboom Dash // Radiant Star // R4gn0r0k // Q∅ // Quiet Time! // Queen Twilight Lucererna Sparkle // Quadrano // Princess Deadpool // Princess Celestia // Pr0digy // PonyRex // Ponycillin // Plasmicat // PJABrony // PixarPal95 // Phoenix Quill // Phoenix General // Peach Hack // Pacifica // Olden Bronie // Oin // Octavia Togami // Nozimo // Noteworthy // Nootaz // Noctis of BROyalty // NightieTime // Nebulous // Natty Rose // NA // Mystic Scribe // Music pony // Mr.B // Mr Yoshi Pony // Moonlit Sapphire // Moon Bolt // MonsieurZemuya // MLPSolarDash1907 // MLPFAN // MLP Arts // misstwipietwins // Minty Fresh // Midnight Aegis // Mic Check // Mel // Megaptera // Mayo McChicken // MasterThief // MasterCode Ace Analyst // Marie Sveronius // Lydia Moonglow // Lunar Dream // Lunar Aurora // Luna // Lord Camembert // LittleshyFiM // Lemielan // Lefty // Latent Logic // Lancer // Kydo Railgun // King // Key // Justaguy // Joshua Nolen // Jonathan Sokol // John Barron // JMLightningdesign // Jet Setter // Jazzy Nights // Jay // Jason H // Jade Stone // Izzee B // Istagrem // Ian Haskell // Honey Lavender // Honey Bubble // Helios/Amethyst Star // HardyFlashier // Hard Love // Hamish // Ham // Half the Battle // Gustysnows // Graymane Shadow // Gracie // Goldheart // Gizmo Gears // Giles Villegas // Ghost Note // Genesis Raptus // Gamebat The Gaming Pony (The Bat) // GalaxyTheDragon // Forkanion // Flashapples // Flaming Dash // FishKepr // Firewolfy // Feathershine // Fawn The Banana Queen // Equestrian Wastelander // EnigmaGuard // ElytraElectra // Electro Heart // ElecManEXE // EldritchSe7en // EileenSaysHi // Ehrin // Earthstar // Duncan Klysh // Dreadnought // Dragmaister // Doctor Whooves // DLocoPwny // DJTHED // DJ Pon-L33 // DiVan // Dissonance // DenaBear // Delta Sierra // Dee Shimmer // Decora Fluff // deadrose // Dawn Gazer // Davis Bailey // Dat Tax Pony // Darkswirl // Dark Tempest // Dargondarkfire // Dani // D.H. Lightning Bolt // D. Woona // Cynny // CyberPon3 // cursedchords // CuriousPoni // CrystalLord // Crimson Blush // CrescentFeather // Contrail The Flying Earth Pony // CommissarDerpy // Codex Writer // Codex Writer // Cocoa Nibs // CoasterBrony // Clay Pigeon // Chrysalis208 // Chrono // Christopher Sin // Christopher // Chaos Spirit 0327 // Cavatina (Nova Bell) // Casimir // Carl Foncannon // CandyFlossDemon // Campfire Glow // Bytewave // BugByte // Brony Momma // Brinny/Amelia // Brass Cog // brambleshadow4 // Bpendragon // Bookish Delight // Blujetink // Blue Bolt // Blazing Anvil // BlackWater // bb010g // Batwing Candlewaxxe // BassHitter // Baltoist // B.B. Wolf // Azure Notion // azbat // Awkwardly Nat // AuroraDawn // Astatine210 // Applegeek // AppleContry // AppleButt // AnyaTimeNow // Annie Mae // Annex // Anne // Angel // andy // Ambizar // Amber Spark/Novel-Idea // Alex // AetherTheorem // Admiral Biscuit // A_Kawaii_Dragon // [CoE] Brandon // @sirsithis // 3dhomejoe