Seattle's My Little Pony Convention
Birth-iversary! Ten Years of Friendship
August 26 - 28, 2022
Hyatt Regency Bellevue
Bellevue, WA
Register Now
News
It's not a party without @Step2Harmony! We are thrilled to invite this talented cosplay and dance group as the first of many community guests at Everfree Northwest 2022.
Read more at https://everfreenw.com/community-guests/, and stay tuned for more VIP and Community Guests!
More News
Guests of Honor
Andrea Libman
Kelly Sheridan
Jenna Warren
Ana Sani
What is Everfree Northwest?
Everfree Northwest is a 3-day all-ages convention for fans of My Little Pony set in beautiful Seattle, Washington. With a Grand Galloping Gala, musical concert, vendors, 24-hour activity rooms, and over 50 hours of events programming, Everfree Northwest has something for everypony!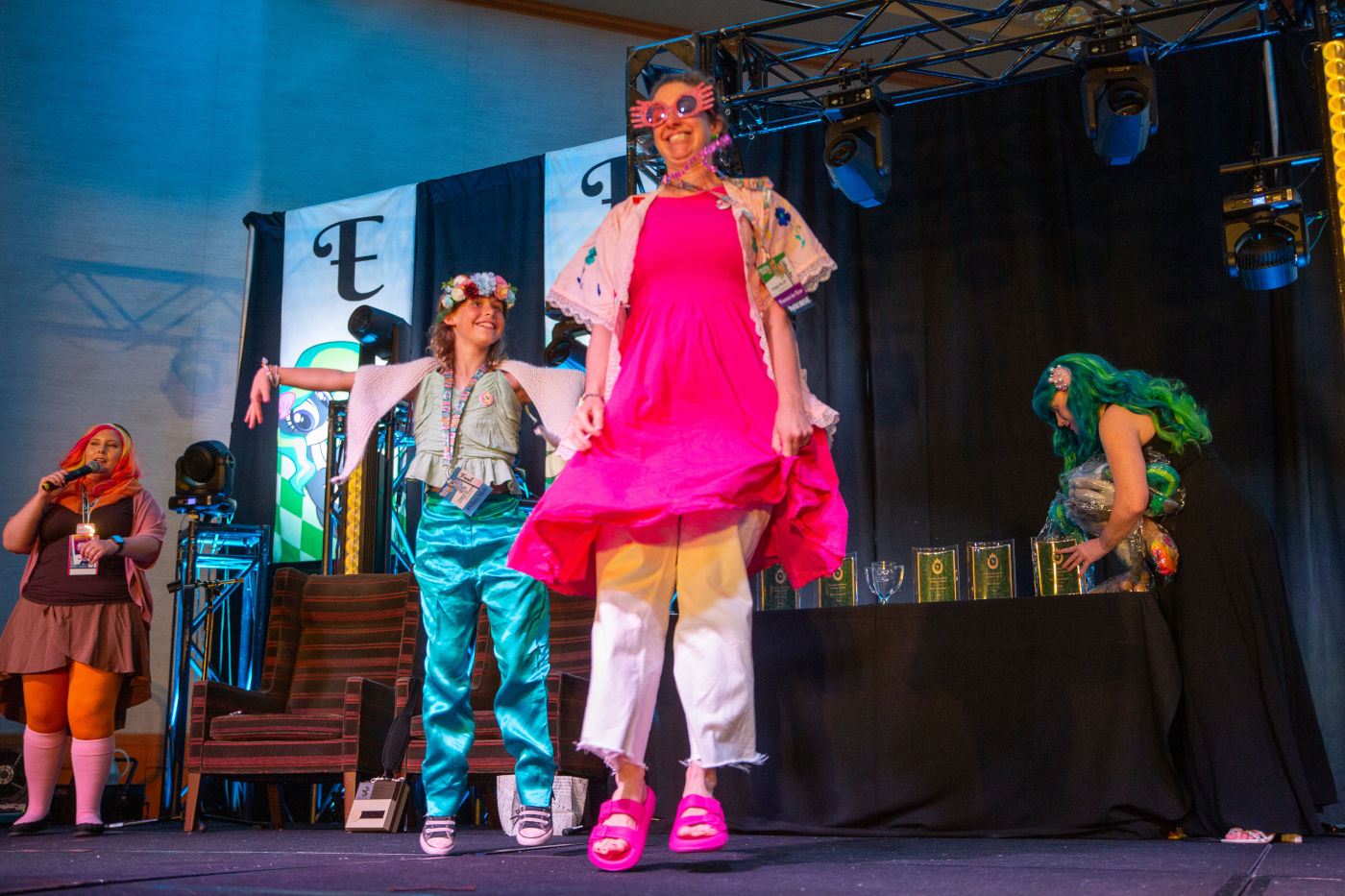 More About EFNW
Meet the Mascots
Hyatt Regency Bellevue
For 2022, Everfree Northwest is going to be located at the Hyatt Regency Bellevue.
Learn More
Special Thanks
A special Thank You to the generous attendees who help make Everfree Northwest possible!
Zac // wubscale // Vocal Rhapsody // Virdia Noire // Velfire // Vayandas // Vanilor // Undómë Tinwë (Melessë Lindenya) // Twisted Shadow // Twilight Sparkle // TuxedoMike // Treetops // TrebleBase // Trail Grazer // Tiny Equine // Tina // Thornwing // The Ferbguy // Terra Klysh // TaylorBMcardle // TaikoDragon // Swift Crescendo // Sunset Ash // Sunchaser // Stu-art McMoy // Stormy Skies // Stormy Dash // Stinky Butt Dash // Stellarator // StatManDan // Starry Tiger // Star Thistle // StableCoder // SR Foxley // Sparky Showers // SparklingPixie // sokesamurai // Skrytch // Sirris // Silver Wing // Silver Tail // Shaxbert // Shadow Streak // shado_jaguar // Shaded Star // Scratches // Scott Pahnisch // Sappy Song // SamuDash // Sage Tanaka // Rouxby // Rose Quill // Robo Bro // Ricky Ray // Razor Finesse // Radiant Star // Q∅ // Quadrano // Princess Deadpool // Pr0digy // popstonia // PonyRex // Ponycillin // PJABrony // PixarPal95 // Phoenix General // Peach Hack // Pacifica // Olden Bronie // Oin // Octavia Togami // Nozimo // Nootaz // Noctis of BROyalty // NightieTime // Nicholas Couch // Nebulous // Natty Rose // Mystic Scribe // Music pony // Moonlit Sapphire // Moon Bolt // MonsieurZemuya // MLPFAN // MLP Arts // Minty Fresh // Midnight Aegis // Mic Check // Mel // Mayo McChicken // MasterThief // MasterCode Ace Analyst // Marie Sveronius // Marchie // Lydia Moonglow // Lunar Aurora // Luna // Lord Camembert // LittleshyFiM // Lemielan // Lefty // Latent Logic // Lancer // Kydo Railgun // King // Key // Joshua Nolen // Josh Perkoff // Jonathan Sokol // John Barron // Jet Setter // Jazzy Nights // Jason H // Jade Stone // Izzee B // Ian Haskell // Honey Lavender // Helios/Amethyst Star // HardyFlashier // Hard Love // Hamish // Ham // Half the Battle // Graymane Shadow // Goldheart // Gizmo Gears // Ghost Note // Genesis Raptus // Gamebat The Gaming Pony (The Bat) // Galaxy // Flashapples // Flaming Dash // Firewolfy // Feathershine // ElytraElectra // Electro Heart // ElecManEXE // EldritchSe7en // Ehrin // Earthstar // Duncan Klysh // Doctor Whooves // DJ Pon-L33 // DenaBear // Delta Sierra // Decora Fluff // deadrose // Dawn Gazer // Davis Bailey // Dat Tax Pony // Darkswirl // Dargondarkfire // Dani // D. Woona // CyberPon3 // cursedchords // CuriousPoni // CrystalLord // CrescentFeather // CommissarDerpy // Codex Writer // Codex Writer // Cocoa Nibs // CoasterBrony // Clay Pigeon // Chrysalis208 // Chrono // Christopher // Cavatina (Nova Bell) // Carl Foncannon // CandyFlossDemon // Camila-Anne // BugByte // Brony Momma // Brinny/Amelia // Brass Cog // Bpendragon // Bookish Delight // Blue Bolt // BlackWater // bb010g // Batwing Candlewaxxe // BassHitter // Baltoist // Azure Notion // Awkwardly Nat // Astatine210 // Applegeek // AppleButt // Angel // andy // Amber Spark/Novel-Idea // almightybooda // Alex // AetherTheorem // Admiral Biscuit // A_Kawaii_Dragon // [Redacted] // [CoE] Brandon