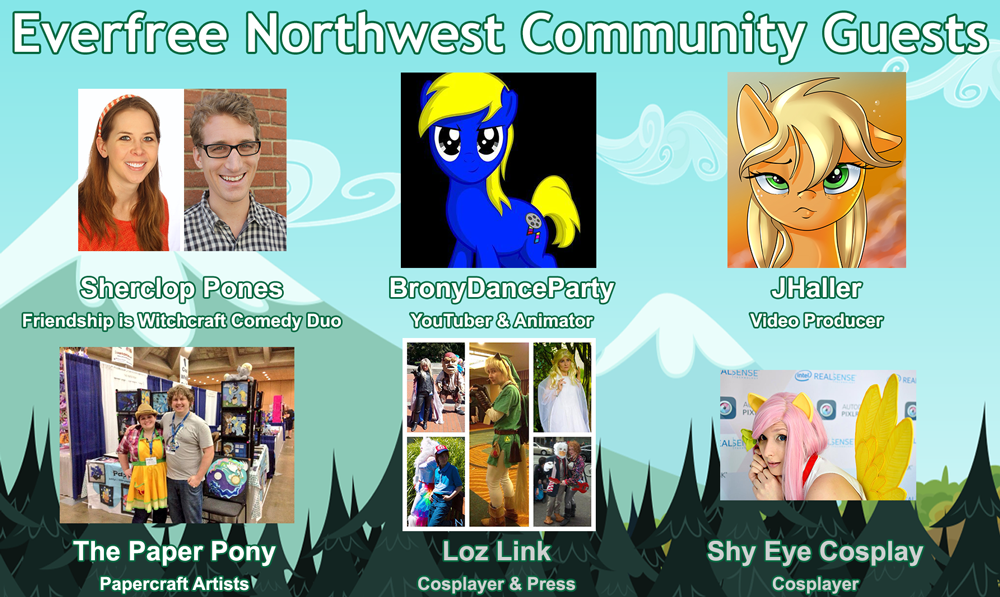 The convention is almost here! Everfree Northwest 2015 is this weekend! We're super excited and can't wait for you all to join us in Seattle!
You can find these amazing people at the convention as well as Community Guests!
Sherclop Pones
Griffin and Jenny, aka Sherclop Pones, have been living with a cursed amulet for the last 16 years. They can never be free of it no matter where they go or what they do. When the amulet gets upset, bad things start to happen. The amulet can't move if you're looking at it. As far as Griffin and Jenny are aware, the amulet can't read thoughts. The amulet glows red when it hears the word "Rachel."
One day the comedy duo—and the amulet—discovered a little show called "My Little Pony: Friendship is Magic." The amulet was instantly hooked, and would not allow Griffin or Jenny to stop watching. During the hiatus, the amulet started writing it's own parody series known as "Friendship is Witchcraft." Griffin and Jenny loved the script so much, they simply had no choice but to produce the series.
BronyDanceParty
BronyDanceParty is a Youtuber that has provided Animated Pony Music Videos for the fandom since 2012. He has animated projects such as "[PMV] Nightmare Night Music Video", "[PMV] Beyond Her Tomb Music Video", and plenty of other Music Videos for the fandom. BronyDanceParty's videos aren't about characters from the show, but instead, feature original characters that are created by bronies in the fandom.
JHaller
JHaller is a video producer and pseudo animator who's been making videos about small candy colored horses for 4 years. (What have I been doing with my life?!)  He is most well known for his work on his Youtube channel where he produces an array of silly pony related content as well as running the Top Ten Pony Videos of each month.  He also is known for his work in the PONIES: The Anthology series as a contributor and a project coordinator in the never ending struggle to roguishly evade Hasbro's online copyright task force.  In his spare time, he runs weekly video game/video editing streams and is an avid supporter of the Apple Horse (because she's kind of the best one.  You can't really argue about that…oh wait I forgot which fandom we're in here.)
The Paper Pony
The Paper Pony consists of a husband and wife duo bringing all manners of nerdiness to life out of cardstock paper.  After a Christmas idea gone right, they become addicted to seeing what their favorite characters look like cut out of paper and stretching the limits of the papercraft medium.
"We're lucky that MLP dropped into our lives once upon an unsuspecting trip to Netflix, and are so happy to be reaching out to more of the fandom by traveling to every convention we can get our hooves on! Our drive to see more folks smile by creating a wide variety of pieces, teaching papercraft, and creating the best art we can for charity items, has made the past two years in the MLP art scene some of our happiest."
They look forward to more conventions, more art collabs, more paper, and of course, more ponies in 2015!
Loz Link
Loz Link fell into bronyness when he and his sister were kids. Being first introduced to the cartoon and then the Movie with Danny, Megan, Molly, Gusty (his favorite pony), Spike, and the smooze. He still has and plays with a lot of his ponies from the 1980's with one or two of their outfits and shoes, though he no longer has the castle or the stable! In 2013 Loz attended his first Everfree as not just a brony, but a media journalist for Optimus Reports. Loz was blown away by the love and acceptance the brony community continually offers. Loz can be seen galloping around in cosplay as a pony version of Link to the Past-ure, the Goblin King Jareth pony, Acorna the Unicorn, and of course the original brony Danny! Who knows who he will interview or cosplay this year!?!
Shy Eye Cosplay
Shy Eye Cosplay began her costuming adventure in 2011, premiering as Sakura Kinomoto from Cardcaptor Sakura at Sakura-Con. Since then she has created numerous cosplays, several of which are My Little Pony themed. You may have seen her at Emerald City Comicon 2015 as Fluttershy, and she was specially filmed by Tabitha St. Germain herself! She was also at BABSCon as Fluttershy again, and premiered her Eris outfit. Currently, Shy Eye is working on Coco Pommel, Princess Cadance, and Princess Twilight Sparkle cosplays. Catch her at Everfree Northwest as Fluttershy, Maid Eris, and perhaps another secret cosplay!
Her best advice for future cosplayers is to not be embarrassed by buying pre-made costumes. Creating an outfit from scratch can be expensive and require a lot of materials. Start small, and don't be afraid to make mistakes. Also, be sure your cosplay is always comfortable, as you're liable to be wearing it for hours. Above all, whatever costume you're going for, make sure you're having fun creating it and becoming that character!
Keep up with her current projects by checking out her cosplay page: https://www.facebook.com/OxOtooshyOxOtooshy
So many amazing Community Guests, we're just stoked that these great people and others will be joining us at the convention! We hope you join us as well!
Follow us on social media (Twitter, Facebook, tumblr, forums, FIMFiction, deviantART) and visit our website for all your Everfree NW news needs!