Community guests! EFNW is all about community, and our community guest lineup this year is packed with talent and familiar faces! From cosplay, to writing, to video production, to acting, and more; these fans have given a lot back to the fandom, and we're proud to have them with us this year in Seaddle! You can check out the full roster below!
Magpiepony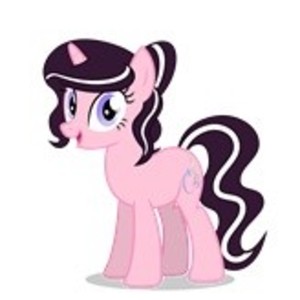 Magpiepony has tried her hoof in several aspects of the fandom from writing and directing her own pony productions to voice acting and editing. On top of collaborations with Pegasus Pitch, she runs two major projects "Princess Trixie Sparkle" and "Pinkie Tales" on her YouTube channel. Collectively, Magpiepony's work has garnered over 160 million views and 150,000 subscribers spanning her two channels "Magpiepony" and "Pitch and Magpie Productions." She is also known for her fan work voicing Pinkie Pie and ponified song parodies.
TheLostNarrator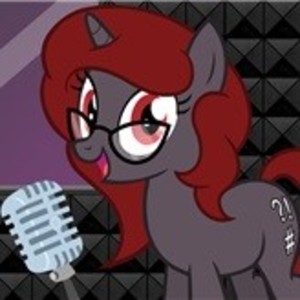 TheLostNarrator is a YouTuber known for her fanfic reading productions, and specializing in the field of horror and grimdark. She has worked with dozens of YouTube personalities to create full-casted readings of stories in addition to voicing Rainbow Dash and Applejack in several fan projects. Her voice work has been featured in several fandom animations and projects from "A Colt Classic" to "Pinkie Tales." Though she dwells in darker stories she is no stranger to comedy as her hilarious blooper reels have had fandom-wide acclaim.
Titanium Dragon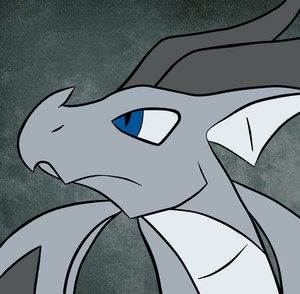 http://www.fimfiction.net/user/Titanium+Dragon
The fact that TD came up with his screen name when he was eight years old while designing D&D monsters – and came up with it on the basis of titanium being a far stronger metal than gold – probably says a lot about the kind of person that he is. As a lifelong nerd, he capped it all off by studying biomedical engineering at Vanderbilt University because studying everything wasn't an option. Since then, he has worked in several quality control labs, as well as spent a brief stint as an independent game designer.
He got sucked into the pony fandom in 2013 and finished binge-watching the first three seasons just in time to get in arguments about how awesome Twilight becoming an alicorn was and how much Applejack and Rarity need to kiss. Since then, he has been drawn into the fanfiction community, and despite his initial resistance to writing fanfiction, has written over 30 stories, the most famous likely being two stories centered around the relationship between Twilight and Celestia – The Stars Ascendant and Forever and Again and Again – as well as the popular comedy Dying To Get There and The Collected Poems of Maud Pie.
As an active reviewer, he has reviewed over 700 stories, and looks forward to reading the next 1,873 stories on his read later list – not to mention all the stories in this year's Scribblefest.
BronyWriter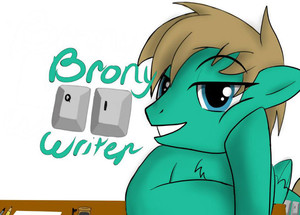 http://www.fimfiction.net/user/BronyWriter
Entering the fandom around the middle of Season 2, BronyWriter began writing decidedly mediocre stories a few months after the Season 2 finale. His first big hit came when he began writing the Non-Bronyverse starring the snarcastic TD Powell as the man trying to get out of Equestria. He has since written a few other popular fics such as Princess Celestia Gets Mugged, Mortality, The Trials of Elizabeak the Brave Little Chicken, The Secret Life of Rarity, and the 2014 Everfree Northwest writing contest winner: Broken Gladiator.
When not working, BronyWriter is working at different places (most recently as a fry cook) gearing up for one last semester of college before graduating with a history bachelors, and two minors in sociology and film. Most importantly, though, he is preparing for his upcoming marriage to his high school sweetheart. With over 70 stories on FimFiction, BronyWriter wonders how his life got to this point. He still finds time to write whenever he can, and wouldn't trade the experiences it has brought him for anything.
Couchcrusader
CouchCrusader (just Couch if you wanna, it's cool) joined Equestria Daily in 2011 and makes most of his contributions writing episode follow-ups and convention coverage pieces he hopes the readers find worth their time. When he doesn't (or they don't), he doodles ponies as monsters and sends 'em up as updates to his Tumblr askblog, Children of Everfree.
Couch also enjoys eating, [dragon noises], not getting enough sleep, leaving games unplayed in his Steam library, and, very recently, buying back into Magic: the Gathering. He also hopes to see you at the con!
Buck: Legacy
Buck: Legacy™ is a pony dungeon crawling fantasy roleplaying card game for 2-6 players. It's an addictive card game that pits players against randomly generated dungeons filled with ferocious monsters. Create a character from 3 pony races and 10 fantasy classes, with vast weapon, armour and equipment customisation.
Be sure to catch a demo in the tabletop gaming room and attend their game development panel to learn more about the process that goes into making the game so amazing!
PonyFinder
Makers of the critically acclaimed adaptation for ponies into the tabletop setting, using the Pathfinder Roleplaying System, David Silver of Silver Games LLC takes great pride and joy in crafting a unique world for technicolor ponies to survive, thrive, and adventure. Though sharing some queues from the show, the product stands on its own hooves and has become a mythos all its own.
Pen Stroke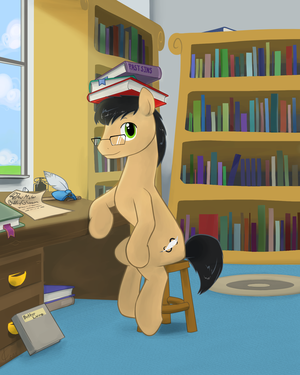 http://www.fimfiction.net/user/Pen+Stroke
Pen Stroke is a long standing member of the fandom. Coming into the fold during Season 1, My Little Pony helped rekindle an enjoyment for writing, particularly of fan-fiction, that had gone rather dormant during the his years at university. He brought his first story to the fandom in Spring of 2011, and in the five years since has created over two dozen stories equaling approximately nine hundred thousand words. Though, you may simply know him best as the author of Past Sins, his most famous work.
He's been a long time attendee of Everfree NW, and has gladly contributed to the convention almost every year. He's been a member of the Iron Author judging team most if not every time, and he's been a common face on the convention's writing panel track. He continues that tradition this year, and hopes that he'll be able to help make the convention special for everyone.
Loz Link
Loz Link fell into bronyness when he and his sister were kids. Being first introduced to the cartoon and then the Movie with Danny, Megan, Molly, Gusty (his favorite pony), Spike, and the Smooze. he still has and plays with a lot of his ponys from the 1980's with one or two of their outfits and shoes, tho he no longer has the castle or the stable!
In 2013 Loz attended his first Everfree as not just a brony but a media journalist for Optimus Reports, tho Optimus Reports is no longer in existence, Loz still continues his journalist adventures thru Hey…..Link! Convention Press with a heart!
Loz was blown away by the love and acceptance the brony community continually offers. Loz can be seen galloping around in cosplay as a pony version of link to the past-ure, the goblin king Jareth pony, acorna the unicorn, the original brony Danny, and Spike the Dragon!
This year due to the passing of David Bowie, Loz will be out and about as Jareth the Goblin King in tribute. And will be on the lookout for crystal ball cutie marks.
The Paper Pony
https://www.etsy.com/shop/ThePaperPonyPlace
The Paper Pony are a husband and wife duo that combine their love for fandoms with their passion for creating 3D art out of cardstock paper. Having been a part of the MLP con scene since 2013, they are excited to be returning to Everfree NW for a second year. In addition to finding them in the vendor hall all three days of the con, you can also look for them at their shadowbox building workshops where they share their love for creation or see some of their work in the charity auction. When they aren't buried up to their elbows in paper or snuggling on the couch to catch the latest episode of MLP, they enjoy escape rooms, great food and hanging out with the friends they made through the MLP community.