DoubleTree Hotel Seattle Airport
For 2016, Everfree Northwest is going to be located at the DoubleTree Hotel Seattle Airport. Located just down the street from the Sea-Tac airport, the DoubleTree Hotel offers a complimentary shuttle to and from the airport and is just a short walk to the light rail station for access to downtown Seattle.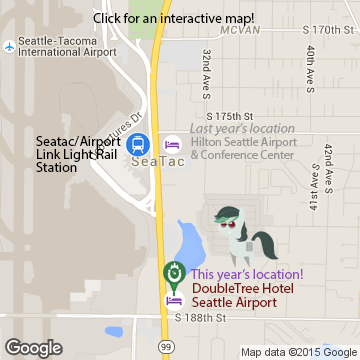 The Everfree Northwest discounted room block has been filled, but rooms are still available at the DoubleTree Hotel at their regular price. To book your room you can contact the hotel by phone (206-246-8600 or 1-800-222-8733) or book online using the link below.
How To Get Here
From the SeaTac lightrail station:
Go down the stairs or elevator and cross 176th street (towards our old location at the Hilton). Follow 176th for 0.6 of a mile, and the DoubleTree will be on your left. You can also cross the skybridge from the lightrail station and take the shuttle.
From the SeaTac airport:
Head to the shuttle pick up area. The shuttle to the DoubleTree Hotel Seattle Airport comes every 15 minutes during the day. Flag down the driver of the shuttle that you need. To see when the next shuttle will be arriving, call (206) 246-8600. Be sure to get on the shuttle for the DoubleTree Hotel Seattle Airport, and not the one for the DoubleTree Suites by Hilton Hotel Seattle Airport – Southcenter. Yes, there are two DoubleTree shuttles. Both will say DoubleTree on the side (the O is a giant cookie!), and will both have the location they are going. If you're not sure if it's the right shuttle, feel free to flag down the driver and ask.
Driving:
Take I-5 south to exit 152. Follow 188th St and it will take you right by the hotel.
Parking Rates at EFNW!
For Hotel guests:
Includes in-and-out privileges
$12 per night per vehicle with in-and-out privileges
Please pick up your parking ticket at the Front Desk
For Daytime attendees:
No in-and-out privileges
0-20 minutes FREE
20 mins – 1 hr $5
1 hr – 24 hrs $10
Be advised, when you leave the lot, the timer resets!
Before returning to your vehicle, please pay at the pay station, located in the foyer across from Registration